A storm door can be a durable & energy efficient addition to your home, and can add significantly more natural light and ventilation, making it a fantastic component to your entry door. Not only does a storm door add a layer of protection to your new front door, it adds instant curb appeal!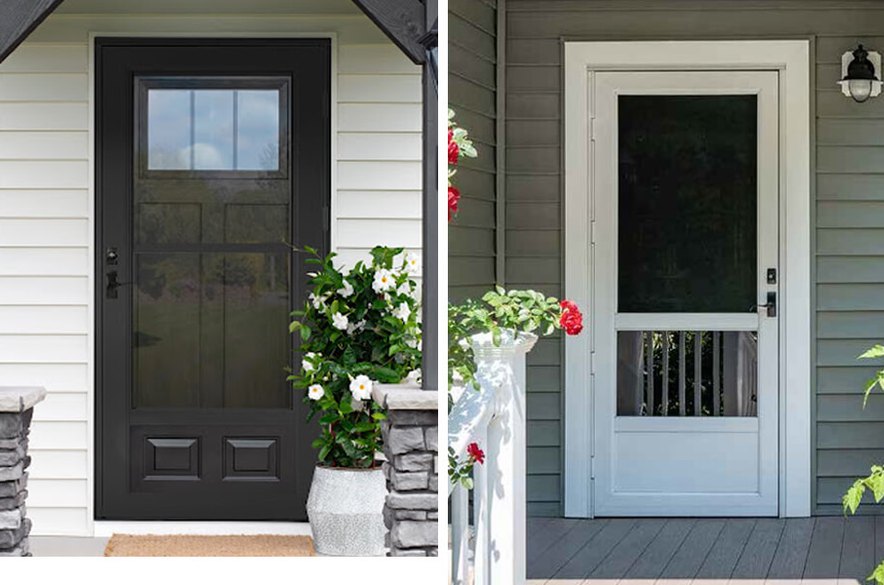 Ventilation
Storm doors can greatly extend the longevity of your front or back entryway, and greatly minimizes the total amount of maintenance needed to upkeep your main door. Many come equipped with retractable screens, which protect against bugs and other unwanted outdoors elements while also letting in fresh air.
Energy Efficiency
Enhanced energy efficiency is one of the biggest reasons one might want to install a storm door, as they are a great additional buffer to outdoor elements, weather, extreme temperatures, etc. Especially in the winter, the added thermal barrier created between a storm door and main entry door significantly helps to keep your home warmer.
Added Security
Another benefit that storm doors provide is additional home security, with an added door acting as a second barrier equipped with an extra locking system. Having an additional set of locks can deter intruders, and gives more peace of mind that your home is secure.
Don't wait on upgrading the security and energy efficiency of your home! Give us a call today at 1-888-REPLACE or set up a free consultation on our website with one of our licensed product specialists, and we can show you all of our entry door + storm door systems.