When it comes to specialty windows, the possibilities are infinite, and it can be difficult narrowing down which style is most appropriate for your home. Depending on the size of the area you are looking to renovate, the options can range from a basic geometric shape to a custom configuration that accommodates the area.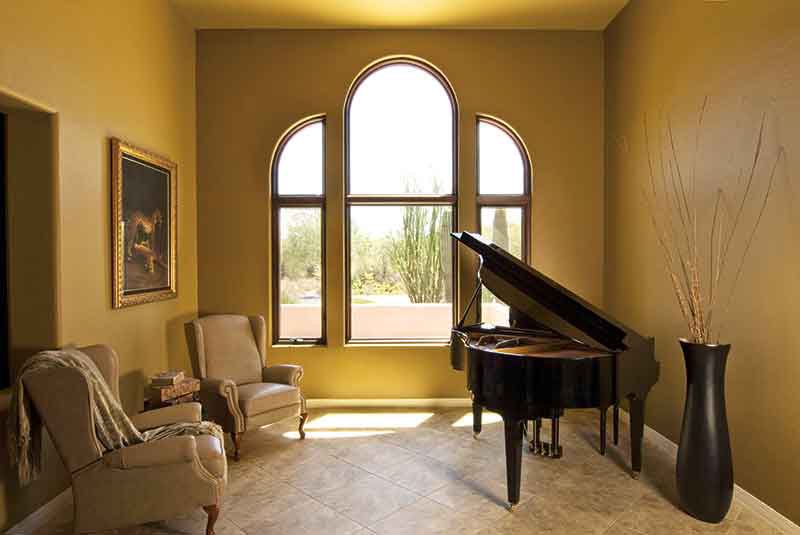 Window Shape Configurations
The shapes available from a basic level can range from rectangular configurations, to triangular and circular shapes, including quarter circles, half circles, complete circles, and a variety of elliptical shapes as well. Trapezoids, pentagons, and octagonal shapes are also available and can open up your space beautifully and can become the focal point of a room, and if you are interested in a standard geometric shape that has a curved overhead, that can definitely be accounted for. Depending on the degree of how curved the top of a specialty shape is, the configuration could be considered an arch-head (which has a lower elliptical arch) or a springline (which is typically a standard half circle on top), and it is possible to split these specialty windows up into two different ones to achieve separate partial windows if that is what your space calls for.
Different Grille Patterns
Of course, the grille patterns are a very important aspect of a specialty window and can drastically change the look and feel depending on what style you select. Traditional classic grilles are the most common, and they tend to evenly cover your entire window unit (they can also only be applied to an upper or lower sash of a window). Starburst grilles fan out from the center point of a shape in equal segments, and sunburst grilles appear as a combination of the styles of traditional grilles and starburst grilles. If you are just looking to have grilles outline the shape of your window, this is of course a possibility as well! Perimeter grilles outline every edge of the window shape excluding the bottom which is left open, and prairie grilles outline the entire window shape and overlap at each intersecting point. There are many other decorative grilles to choose from in addition to these, and they can truly transform your home into a unique and stylish space.
If you're looking to install a specialty window in your home and don't know where to start, we are here to help. Our licensed product specialists can show you all of the different options and configurations to help you design the perfect window. Give us a call at 1-888-REPLACE or schedule a free in home consultation on our website today!