There are many ways to protect your home, but nothing beats the peace of mind of installing Andersen replacement windows or a home security door on your property.
It's the perfect solution to keep unwanted guests out of your house, from children playing in the street to thieves looking to break in and steal valuables and more. 
When you're looking to install the best doors for home security from trusted companies like ACRE, it's important to consider some finer details when selecting security doors for your home.
Here is an in-depth look at the best security doors for homes so you can make an informed decision. Read on!
What Is a Security Door?
Security doors are doors made ‌of sturdy materials designed to resist forced entry. They typically have reinforced frames, stronger hinges, and deadbolt locks. Some may also have additional features like security bars or grilles. 
Benefits of Security Doors
They help deter burglars and keep your family safe. 
A residential security door can also help to protect your home from severe weather conditions. 
A security door can give you peace of mind if you live in an area prone to hurricanes or tornadoes.  
In addition, a reinforced front door can add an extra layer of insulation to your home, helping to keep it cooler in the summer and warmer in the winter, plus giving you maximum privacy.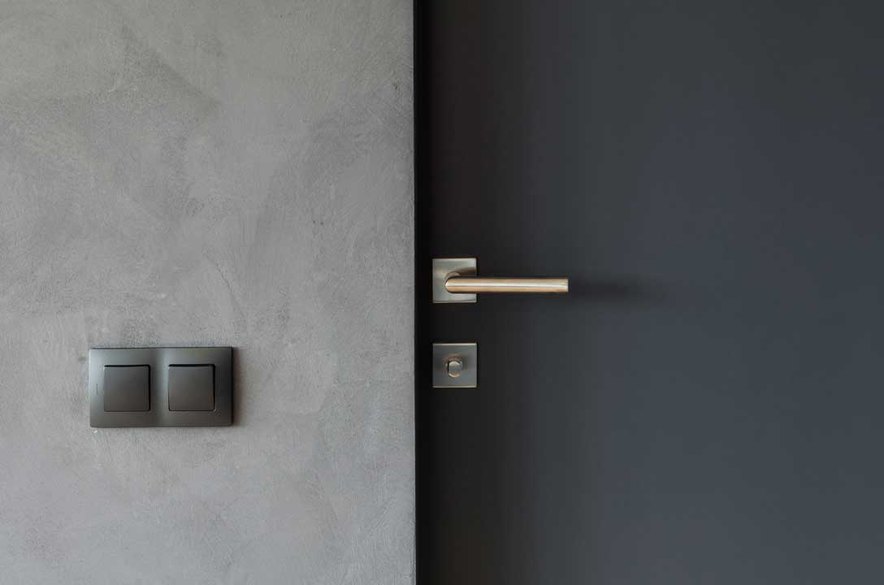 Types of Security Doors
The first step in choosing the best security doors for homes is learning about the different options available: wooden, metal, and composite. Each type has its benefits and drawbacks, so it's important to know which suits your needs best. Here are some of the most popular safety door options available on the market today:
Wood
A wooden door is a good security door because it is strong and durable. It can also be reinforced with a deadbolt lock to make it even more secure. A wooden door is less likely to be damaged by forced entry than a glass or metal door. For increased security, a wooden safety door should be 1 3/4" inches thick or more.
Steel
Steel iron security doors are the best options for residential and company premises thanks to their strong and durable nature. These doors can also be fitted with locks that are difficult to pick, making them even more secure. 
Fiberglass
Fiberglass doors are a great option for a residential security door because they are strong and durable. They can withstand a lot of force, making them difficult to break through. These security doors for homes are fire resistant and won't warp or crack in extreme temperatures. Plus, they don't rot or rust.
Security Grills
Security grills provide an extra layer by deterring intruders and keeping your family safe. Additionally, security grills can be easily installed and are relatively low cost. In addition to that, they offer various design options to complement the look of your home. 
UPVC
Built with durable material that can withstand force makes UPVC doors the best back doors for security. They are also weather and wrap -resistant.
How To Choose A Security Door
Here are some essential factors you should consider when choosing the best doors for home security.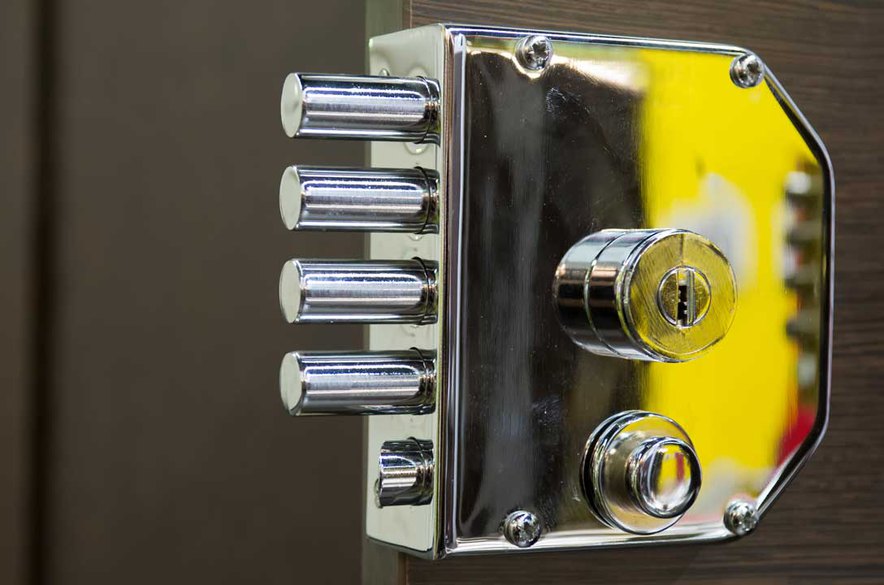 Material
When choosing the best security doors for your home, the material is one of the most important things to consider. A door made from sturdy materials like steel or iron will offer the best protection against forced entry. But these doors can be expensive and may not fit your budget.
Security doors can be made from wood or fiberglass that can provide good protection at a lower price. But remember that these doors may not be as strong as steel or iron security doors. So, if you're looking for the best protection possible, you'll need to choose a door made from the strongest material you can afford.
Type
Here are some of the most popular safety door types: 
Double security doors
Single security doors
Laser doors
Mesh doors
Stainless steel security wire
Small diamond grill
Dimensions
When looking for a security exterior door, it's important to consider the door's dimensions. The width and height of the door will determine how much space you have to work with when installing the safety door.
Placement
Placement is key. You want to ensure the door is placed in an area that is not easily accessible to intruders. You also want to ensure the door is visible from all sides to see who is trying to enter your home.
Installation
When choosing a residential security door for your home, you should consider the installation process. A good installation company will be able to help you choose the right door for your home and install it properly. This will ensure that your door is effective at deterring intruders and protecting your home.
Feel Safe, Be Safe - And Get The Best Doors With Our Help!
The best security doors for homes are the ones that fit your specific needs and budget. There is no one-size-fits-all solution, so do your research before making a purchase. 
You can also always enlist the help of experts at ACRE Windows and Doors and take a step back. ACRE services several areas within the United States. These areas include:
Parsippany-Troy Hills
Ridgewood
Wayne
Pequannock Township - NJ
Pennsylvania
New Jersey
Delaware
At ACRE Windows and Doors, you will find a wide selection of security doors for homes to choose from that will fit any budget, and the team of experts can help you find the perfect door for your home. Contact us at 267-281-1717 today!