Take a look at this gorgeous front entry door upgrade we just installed in this home in Edison, NJ! We transformed our customer's home with a beautiful custom ThermaTru Woodgrain Fiberglass entry door with a decorative glass panel and matching sidelites, adding instant curb appeal and property value.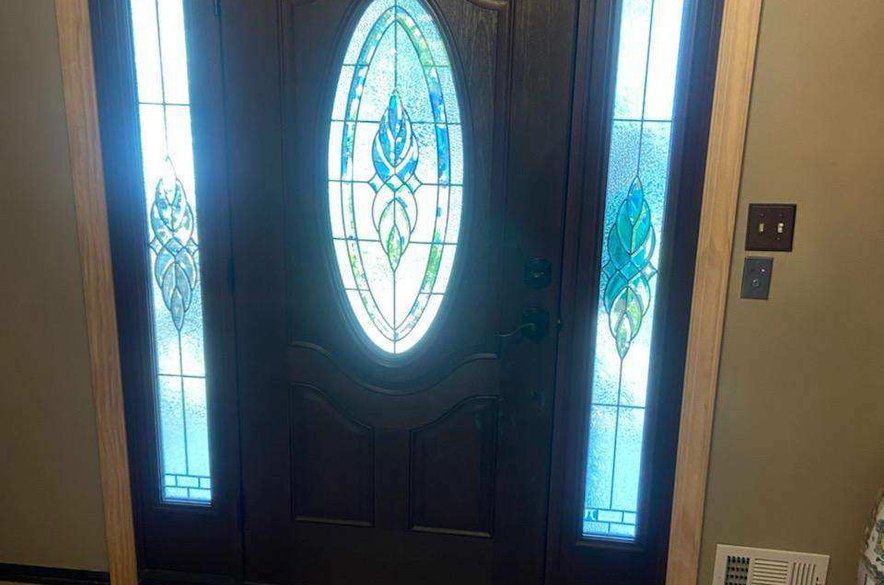 We can brainstorm with you to create the exact entry door you are envisioning for your home, and we highly recommend a fiberglass door by ThermaTru. There are many benefits to choosing a fiberglass door over wood door. Fiberglass is an extremely durable and sturdy material that requires minimal maintenance, all while getting the look of a classic wood door, without the upkeep! A wooden entry door needs to be refinished every couple of years and scratches easily, and can split and crack in extreme temperatures. They also easily absorb moisture, which can cause the door to rot or warp, and results in the finish peeling or bubbling. Fiberglass does not absorb moisture, eliminating all risks of the finish of the door getting ruined. Fiberglass is much more energy efficient than wood, with up to 4 times the insulating R-value. 
ThermaTru's fiberglass entry doors come in three distinct custom wood grains that mimic the appearance of the most popular materials used to construct a classic wooden door, including fir and mahogany. The glass components are constructed of triple pane panels that come in a variety of decorative, privacy, and textured glass designs. You can choose a variety of styles and finishes that will truly enhance the front of your home. 
ThermaTru has become the leading door brand used by contractors & building professionals, and we take great pride in being able to help our customers create a door that is built to last. Don't wait to spend a fortune on your heating bill this winter, let us help you get your new top of the line energy efficient front door and start planning your installation today! Call us at (908) 336-2161 to schedule your free in home consultation with one of our licensed professionals, or set up an appointment on our website!