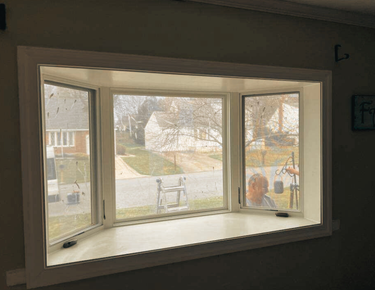 Sale: $1,500 Rebate, 0% Financing. Get your free estimate today!
Lancaster County Replacement Windows
Lancaster County Replacement Windows
Lancaster Replacement Windows
If you're looking to replace windows in your Lancaster home, ACRE Windows and Doors can help! We are an Andersen certified installer with years of combined experience installing windows in and around the Lancaster area. We know all of Andersen's product lines and customizable options. The ACRE team can help you with any questions or concerns you may have with your replacement window project.
Does it seem like you're constantly messing with your thermostat to increase your cooling and heating? Subsequently, you receive your heating and cooling bill, and it just keeps going up? Well, it's probably time to replace your windows. We have a large variety of energy efficient replacement windows. Energy efficient windows are designed to keep the warm air inside in the winter and the cold air inside in the summer. Thus, saving you money on the cost of heating and cooling your home. Andersen has many different glass options to add more efficiency. Some energy efficient window lines are Andersen 100 series, Andersen E Series, Andersen 400 Series, and our very own ACRE Energy Pro.
            Some of our Lancaster replacement windows include:
Single Hung Windows: Windows that have one operating sash. The other sash is fixed. Allows ventilation through the bottom sash.
Slider Windows: Easy to operate and open. Offers a great view.
Double Hung Windows- Windows that have a two-operating sash. Both sashes move. Easy to clean and more ventilation to your home.
Bay & Bow Windows- A great option to add curb appeal to your home.
Awning Windows- Add more airflow to your home while protecting from unwanted water and rain getting into your home.
Replacement Windows in Lancaster
Our ACRE professionals are ready to help you find the perfect replacement windows for your Lancaster home. Our installation team promises to provide the utmost satisfactory customer service. Our team works around your schedule and will accommodate any requests you may have. The installation process will be quick and efficient with the install being completed in as little as 1-2 days! Our goal is to leave you with customer satisfaction, which is why we will complete a final work through with you at the end of each project, to be sure you're happy with your windows.

            Don't wait! Call ACRE to get connected with a window professional today at 908-336-2161. OR go online and complete our free online estimate form. We look forward to getting started on your window replacement project!
Why Choose ACRE Windows & Doors
100 Years Experience

ACRE Industry Pros have over 100 years of combined experience

Certified Installation

Professional installation from an Andersen Certified Installer

Energy Efficient

Every window we offer meets or exceeds a strict ENERGY STAR standard