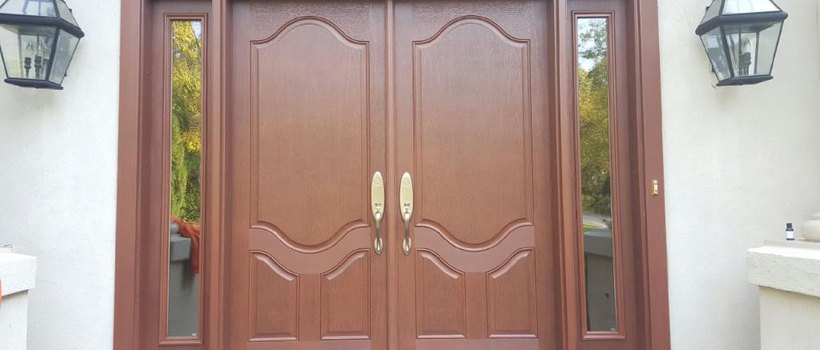 Sale: $1,500 Rebate, 0% Financing. Get your free estimate today!
Entry Door Systems
ACRE Windows is the installer of Philadelphia entry door systems that provides customers across Pennsylvania, Delaware and New Jersey with custom doors that will last for decades. Our experts use only high-quality Therma-Tru products for entry door systems in Philadelphia. With Therma-Tru Classic Craft Premium Entryways you can design your dream entry door. This unique entryway combines expert craftsmanship with architectural details to create an exceptional door that performs every bit as great as it looks.
CALL FOR YOUR FREE ESTIMATE TODAY: 888-737-5223
Quality construction and outstanding performance make Therma-Tru the highest quality fiberglass door on the market. With superior energy efficiency, security features and hundreds of design options, it's never been easier to create the entryway you have always wanted. Some benefits of choosing Therma-Tru for your entry door include:
Weather Resistant, Low-Maintenance, ENERGY STAR Rated Fiberglass Door
Thicker fiberglass skin than industry standard
Multipoint locking system
Composite Adjustable Sill
Rot resistant mullions, brick mold and jambs
Dual bulb bottom sweep to prevent water infiltration
Foam-filled compression weather strip
Composite railways for enhanced weather resistance
Hardwood edges to provide edge-to-edge weather protection
Highest R Values & low E coatings for superior energy efficiency
Triple pane glass adds energy efficiency and keeps out noise
5 Collections and Limitless Combinations
25% bigger door panels
Intricate, delicate glass designs
To learn more about the highest quality Philadelphia entry door systems on the market, don't hesitate to contact ACRE Windows today. Our qualified team will complete your order and installation efficiently, ensuring that you receive the door of your dreams. Don't delay any longer - request a free estimate online or call us at 888-REPLACE to get started now!
Call 888-737-5223 now to register for your $1,500 rebate!