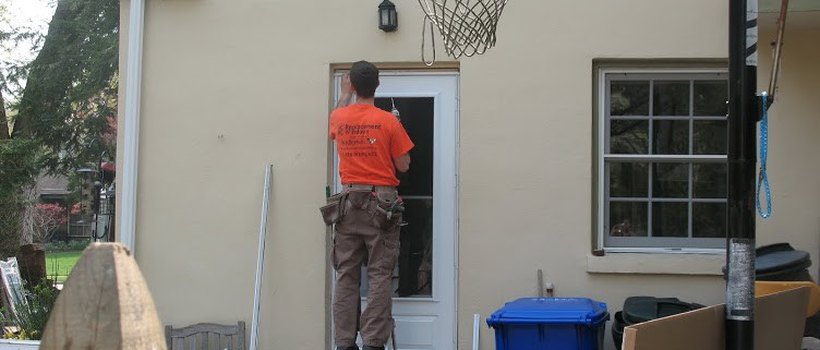 Sale: $1,500 Rebate, 0% Financing. Get your free estimate today!
Top-Quality Door Installation in New Jersey and Pennsylvania
Top-Quality Door Installation in New Jersey and Pennsylvania
Nothing says home sweet home the way a new door does. But new doors do more than just making your house look charming and inviting. They can also drive up your curb appeal and increase safety in your home. We, at ACRE, are a team of Andersen Certified door installation experts, which means that you can get high-quality Andersen door installation and French door installation without having to lift a finger. Our replacement doors are all energy-efficient and aesthetically appealing, which serves to add excellent value to your home. All you have to do is choose the replacement doors that you want for your home, and we will complete the installation process for you from beginning to end. 
Do You Need a Free Estimate?
If you are wondering about the door installation cost, then put your concerns to rest. At ACRE, we believe in complete transparency throughout this process. This is why we offer free estimates regarding the door installation cost to all our customers right at the beginning. As a matter of fact, do you wish to get an estimate for your patio door installation cost right now? Hit us up! We're not going anywhere!
Front Door Installation Near Me
If you were wondering, "where can I find exterior door contractors near me?" then look no further. Our Andersen Certified crew are specialists when it comes to exterior door installation. They begin the front door installation process by removing your old doors and disposing of them neatly and safely. Replacement doors are then fitted with the right measurements and sealed to provide you with a secure and energy-efficient environment. 
Our exterior door installation services do not stop there. Our experts will also advise you on the best way to work your new doors and maintain them so that they last as long as possible. You can rest assured that all our ACRE specialists follow the guidelines we have set for them, which include:
Working punctually, neatly, and efficiently. 
Being courteous and helpful at all times.
Using drop cloths to ensure that your house remains tidy at all times.
Strictly following factory specifications when installing all ACRE Energy Pro™ Products, Andersen® Windows & Doors, Therma-Tru products, and Silver Line® Windows.
Cleaning up thoroughly once the job is done.
Giving you a tour of the new products and ensuring complete satisfaction.
Contact Us Today
With more than 100 years of door installation experience under our belt, we provide only the best of the best to our customers anytime, anywhere. Our service areas include Parsippany (Troy Hills, Ridgewood, Wayne, and Pequannock Township, NJ), Pennsylvania, New Jersey, and Delaware.
Let our experts guide you on the best way to install new doors in your home and watch your home transform into a wonderland. Connect with us online for a free estimate. Or better yet, call us at 888-737-5223 to register and get a $1,500 discount!